Hand Controls
Absolute Mobility Center offers a wide array of adaptive mobility equipment for your vehicle. Simply select a topic of interest for more information on a product.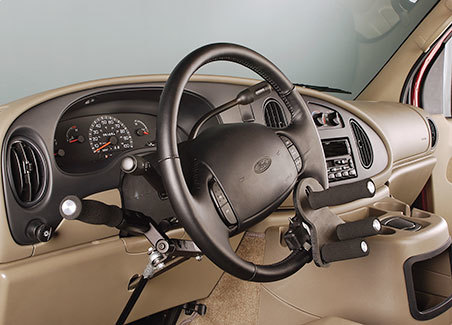 Sure Grip FeatherLite Hand Controls
Sure Grip FeatherLite hand controls are the newest offering of hand controls on the market! Featherlite creates an electrical interface with your vehicle's acceleration system. This interface removes all resistance created by hard mounted accelerator rods and gas pedal resistance. The result is dramatically more leg room and lap room for the driver, combined with the absolute easiest acceleration possible.

MPS Push/Rock Hand Controls
The MPS Push/Rock Hand Control enables the driver to apply the accelerator and brakes by hand. When the upright handle is pushed forward toward the brake pedal, the brakes are applied. When the upright handle is rocked rearward toward the user the accelerator is applied. These hand controls also come with an Accelerator lock-out feature for added safety.
Carospeed® Menox Hand Controls
Carospeed Menox is a floor-mounted hand control that moves the accelerator and brake pedals to an intuitive hand control; pull for gas and push for brake. The design of the control is ergonomic, conforming to a person's natural hand-wrist-arm motion. The Carospeed Menox's design is simple and durable. Minimal hardware is needed for the installation leaving the driver with extensive leg room.